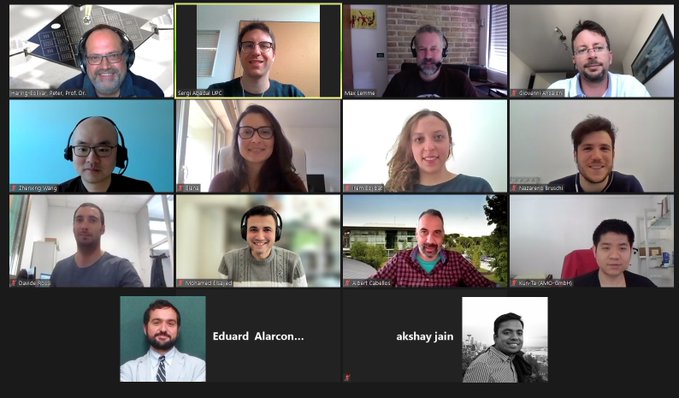 Fourth Plenary Meeting

On April 27, we had a full day of discussions around #graphene antennas, #wireless chip-scale communications, and #AI hardware architectures. Lots of exciting research ahead in the second half of WiPLASH!
Tutorial at HiPEAC 2021

We organized a tutorial "Using gem5 and RISC-V simulation to enable the optimization of heterogeneous architectures" where we delved into how to simulate wireless interconnects and RISC-V cores. The tutorial featured research talks by Marina Zapater (EPFL, HEIG-VD/HES-SO), Sergi Abadal (UPC), Irem Boybat (IBM), Alexandre Levisse (EPFL), and hands-on sessions by Joshua Klein (EPFL), David Truan (HEIG-VD/HES-SO).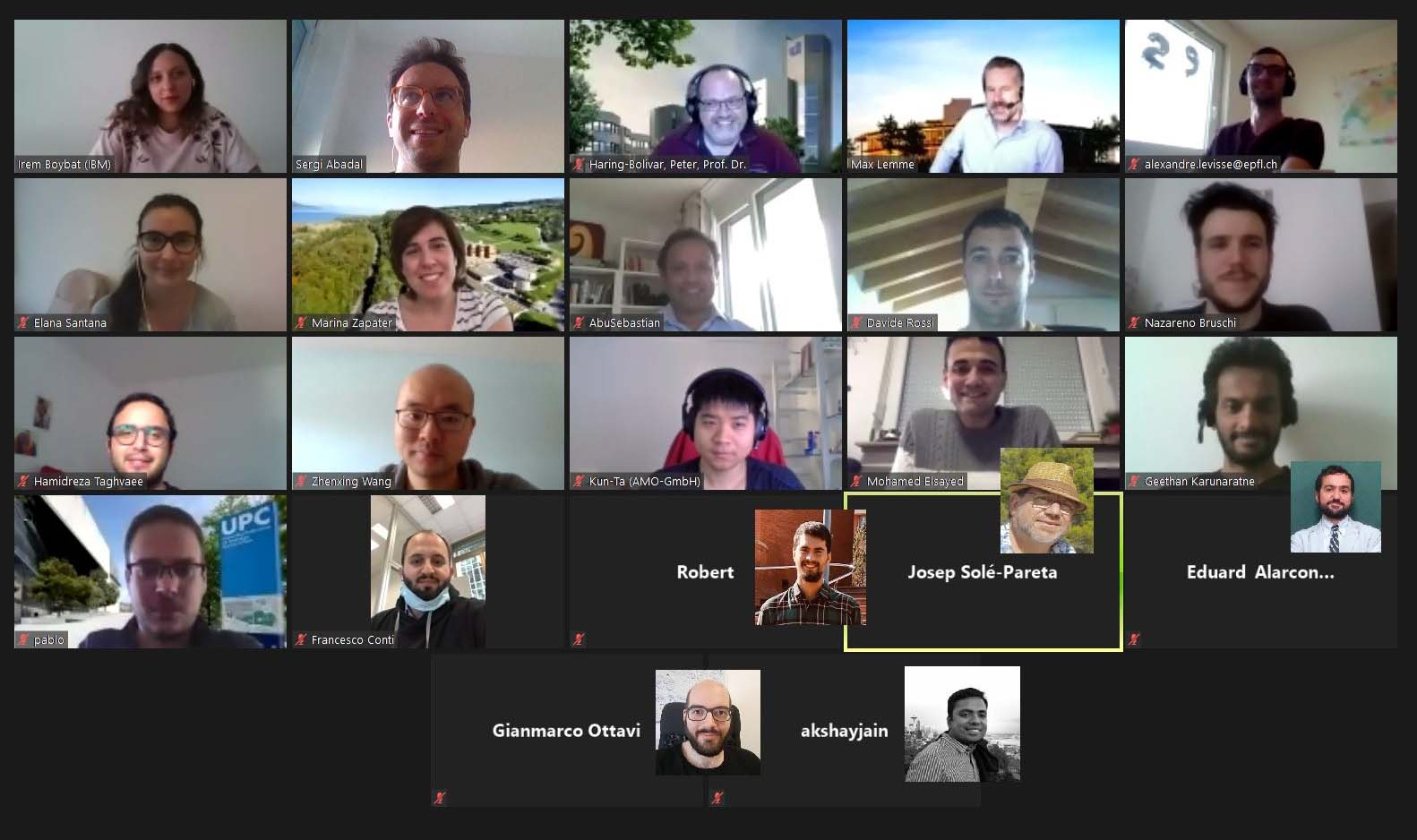 Third Plenary and Review Meeting

The 3rd plenary meeting and the review of WIPLASH took place virtually on 24 November 2020. We had 20+ representatives of all partners and very interesting discussions! With this and the review meeting, we officially conclude the first year. Looking forward to the next two!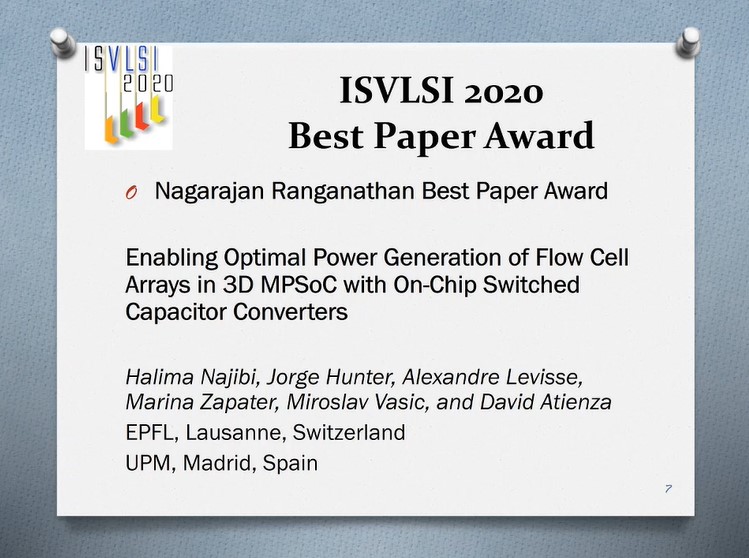 Best Paper Award at ISVLSI2020

The project members Alexandre Lévisse, Marina Zapater and David Atienza received a best paper award at ISVLSI2020 for their work of DCDC converters and its thermal analysis. In WiPLASH, we'll use this framework to analyze chiplet-based wireless-enabled architectures.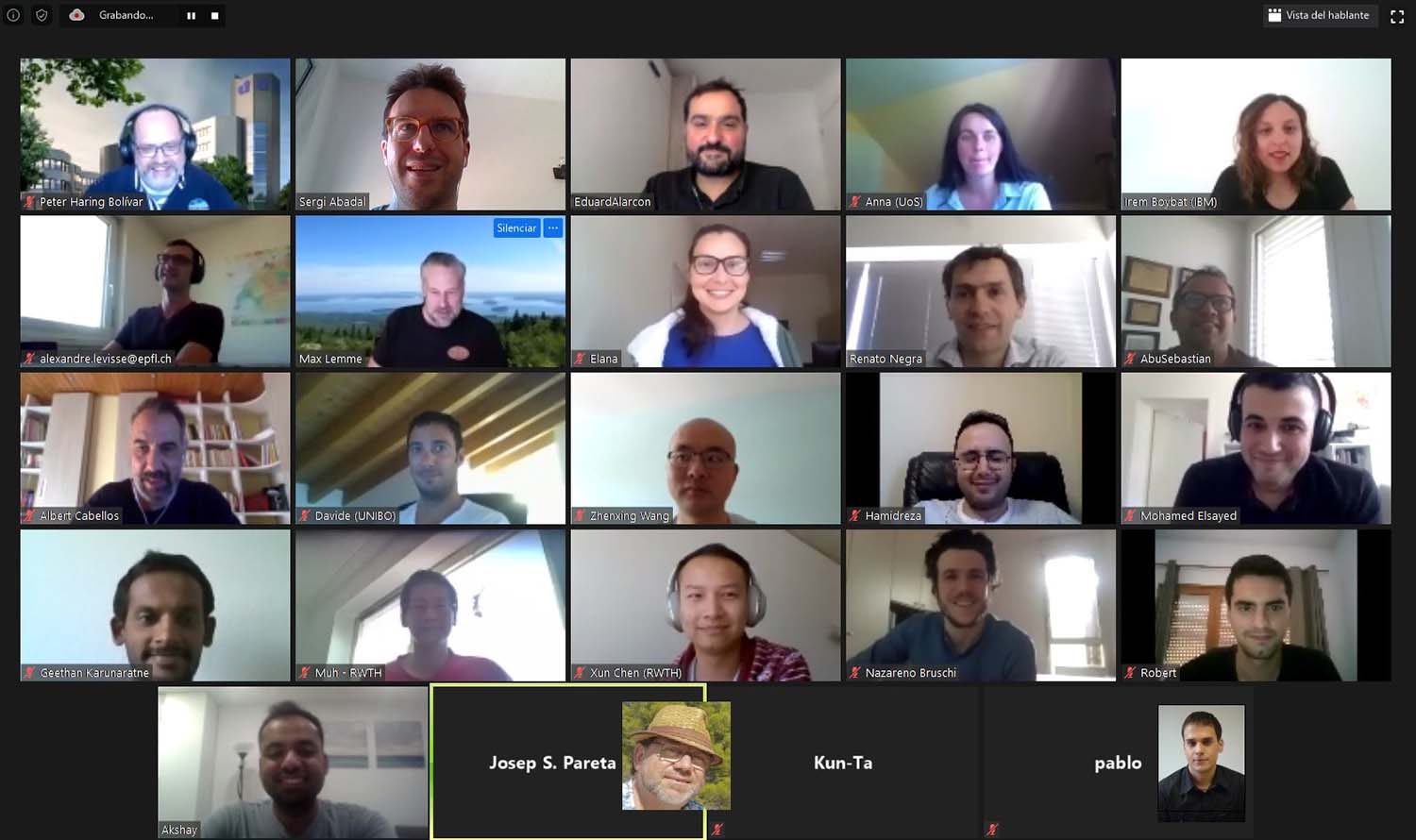 Second Plenary Meeting

The 2nd plenary meeting of WiPLASH was held on May 28, 2020. The meeting was virtual due to the COVID-19. On the bright side, we had a broad participation and fascinating discussions about the future of graphene antennas, wireless chip-scale comms and AI accelerators.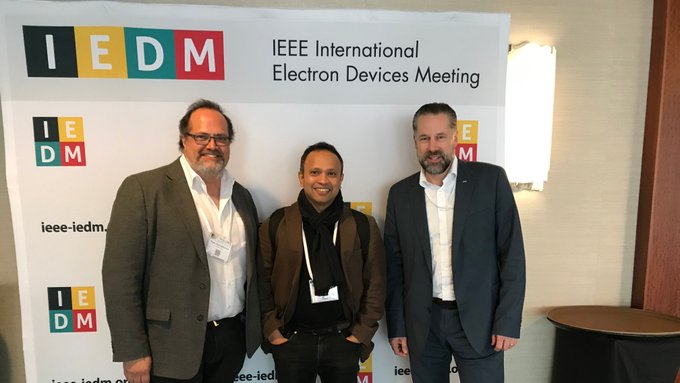 WiPLASH at IEDM 2019

WiPLASH partners met at the IEEE International Electron Devices Meeting (IEDM) 2019, which took place on 7-11 December in San Francisco. There, Peter Haring Bolívar, Abu Sebastian, Max Lemme and Luca Benini participated in the discussions on the state of graphene, optoelectronics, nanotechnology, emerging AI and mmwave RF.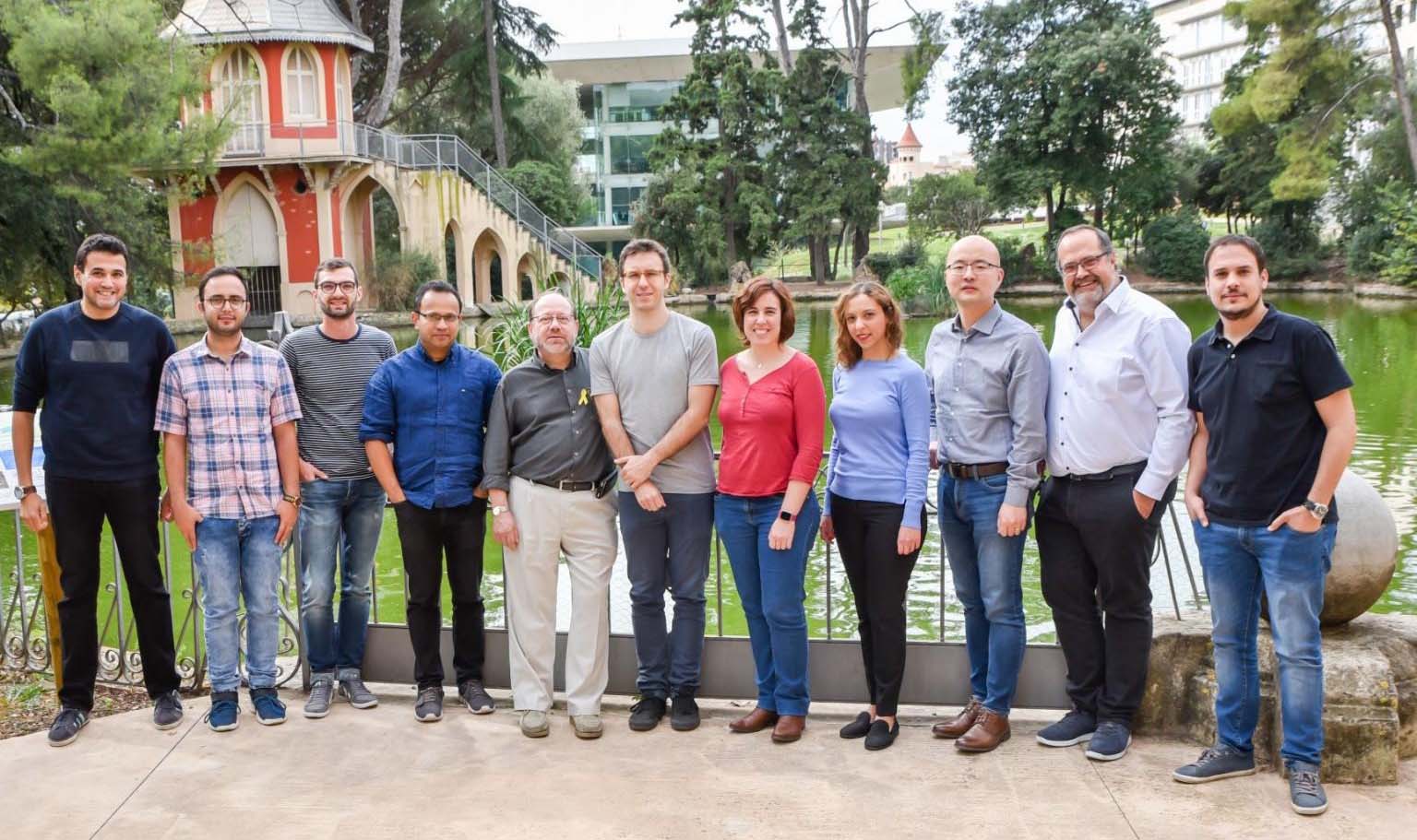 Kick-off meeting

The Kick-off Meeting of the H2020 FETOPEN project WiPLASH was held in UPC in Barcelona on the 17-18 of October 2019. Very exciting discussions to kickstart the project with diversity of experts in the fields of AI, NoC, graphene fabrication, and terahertz circuits and antennas for wireless on-chip communication.

Read more about our team below.
Meet the Team


Dr.-Ing., Universitätsprofessor Max Christian Lemme

Max Lemme is among the pioneers that brought graphene into the engineering community a decade ago and, in WIPLASH, he leads the integration graphene antennas and transistors in manycore chips. He is a professor at RWTH and CEO of AMO GmbH.


Prof. Dr.-Ing. Peter Haring Bolívar

Peter Haring Bolívar leads the graphene antenna implementation & test in WiPLASH, as PI of UniSiegen. He has 20+ years of experience in terahertz optoelectronics for imaging and comms. A master of femtosecond phenomena as well!


Dr. sc. techn., Universitätsprofessor Renato Negra

Renato Negra leads the mmWave and terahertz transceiver design (including graphene RF components) as PI of RWTH in WiPLASH. His unique blend of expertise in high frequency electronics and graphene RF are an invaluable asset in the project.


Associate Prof. David Atienza Alonso

David Atienza (from EPFL) pioneered the area of smart embedded systems or edge computing for wearables and IoT 10+ years ago. In WIPLASH, he leads the AI-based low-power and thermal-aware design and run-time management of manycore chips. A privilege to have him!


Prof. Dr. Luca Benini

Luca Benini is a pioneer of network-on-chip paradigm and open-source HW with pulp_platform. In WIPLASH, his team at University of Bologna contributes crucially in energy-efficient systems and multicore SoC design. A true privilege!


Dr. Abu Sebastian

Abu Sebastian from IBM Research brings his outstanding know-how in nanotechnology and in-memory computing to shape next-gen wireless AI accelerators in WiPLASH. For these topics, he won the prestigious Consolidator Grant from ERC_Research in 2016.


Dr. Sergi Abadal

Sergi Abadal from UPC is the coordinator of WIPLASH. He worked on graphene terahertz antennas and network-on-chip for a decade and, in WiPLASH, he aims to bridge the antenna-architecture gap with the right communication protocols.


Dr. Zhenxing Wang

Zhenxing Wang, from AMO GmbH, has a very strong background on physics and 15-year experience on devices and circuits based on carbon nanomaterials. In WiPLASH, he will work on graphene device fabrication and integration. Welcome aboard!!


Dr.-Ing. Mohamed Elsayed

Mohamed Elsayed is a researcher at RWTH University, where he obtained PhD in 2019. His works on graphene RF devices and circuits which is a perfect fit for WiPLASH, where he will contribute with graphene-based designs for millimeter-wave transceivers.


Dr. Alexandre Lévisse

Alexandre Lévisse is Scientist at the Embedded Systems Lab in EPFL. Graduate from CEA-LETI in Grenoble, his interests are emerging memory and transistor tech, in-memory computing, and accelerators - three key areas of WiPLASH.


Dr. Marina Zapater Sancho

Marina Zapater is a Scientist at the Embedded Systems Lab in EPFL. Her expertise in telecom and computer architecture are unvaluable assets in WiPLASH, where she contributes in the upper layers and leads the simulator development.


Dr. Davide Rossi

Davide Rossi is a Senior Assistant Professor at University of Bolonia. He has been involved in the pulp platform initative for a while, and his outstanding know-how in manycore low-power processors is a cornerstone of WiPLASH.


Dr. Irem Boybat

Irem Boybat is already more than a rising star in the fields of neuromorphic and in-memory computing at IBM Research. In WiPLASH, she will work on wireless-enabled AI accelerators.


Dr. Eduard Alarcón and Dr. Albert Cabellos

Eduard Alarcón and Albert Cabellos is a one-two punch from UPC with combined 40+ years of experience on the topics of WiPLASH. Eduard has a strong electronics background, while Albert is expert in networks. Pioneers of nanonetworking at the NaNoNetworking Center in Catalunya.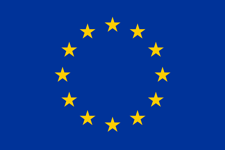 This project has received funding from the European Union's Horizon 2020 research and innovation programme under grant agreement No 863337.